Health Literacy and Hospital Readmission Rates
Readmission rates are a concern for many hospitals, as admitting the same patient multiple times is costly, and, if readmission rates for the facility are higher than average, it can lead to penalties under the Centers for Medicaid and Medicare Services Hospital Readmissions Reduction Program (HRRP). As such, many organizations are continuously looking for ways to reduce readmission rates, including by assessing and addressing the connection between health literacy and hospital readmission.
What Is Health Literacy?
According to the U.S. Department of Health and Human Services (HSS), health literacy is "the degree to which individuals have the capacity to obtain, process, and understand basic health information and services needed to make appropriate health decisions."
For a patient to have proficient health literacy, they typically need basic literacy and math skills, as well as a working knowledge of health topics, and HSS explains only around 12 percent of adults possess this level of passable health literacy.
---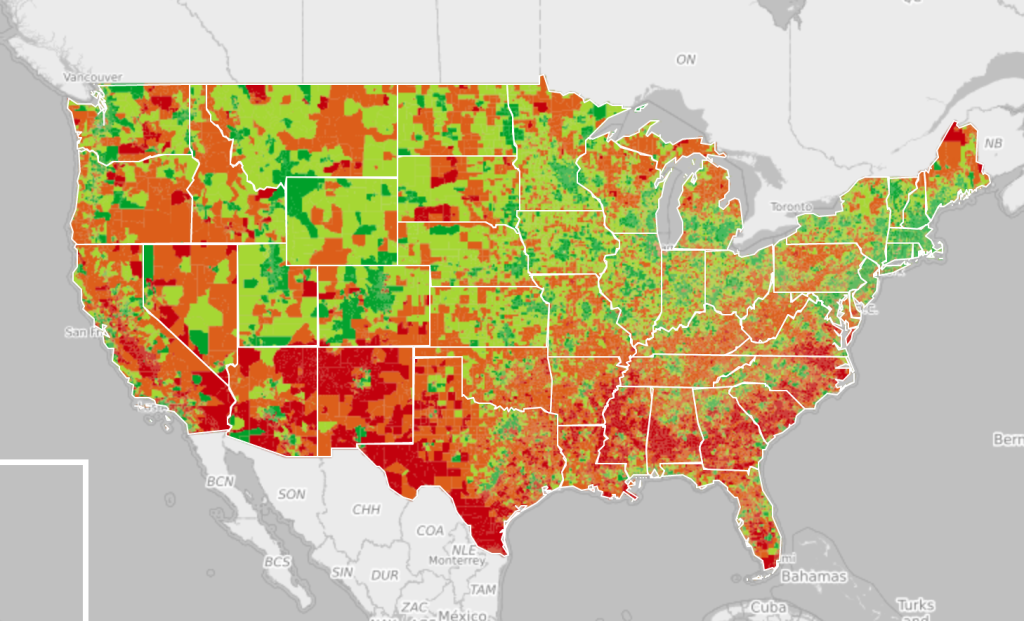 UNC Chapel Hill offers an interactive health literacy map. You can view breakdowns by National Assessment of Adult Literacy (NAAL) categories, national quartiles, and state quartiles.
---
A Risk Factor for Hospital Readmissions
According to HSS, low health literacy has a direct impact on health outcomes. Patients with low literacy rates are less likely to seek preventive care, less able to manage chronic conditions, and have a higher rate of hospitalization and use of emergency services. Given these trends, it seems likely that low health literacy may also be a risk factor for hospital readmission, and while there has not been comprehensive research on this, a few studies have found that a correlation typically exists between the two.
---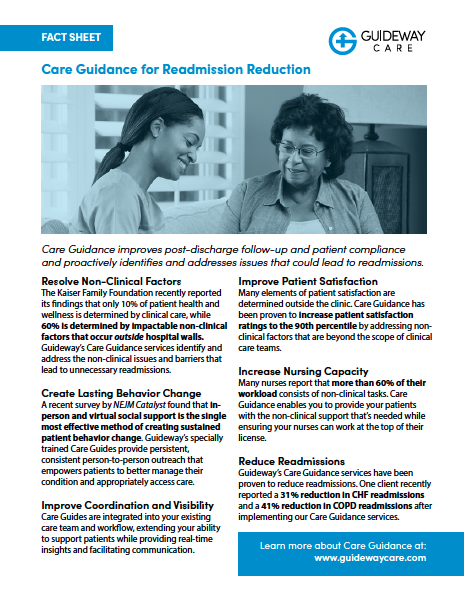 Guideway's Care Guidance services have been proven to reduce readmissions, including 31% reductions in CHF readmissions and 41% reductions in COPD readmissions.
---
For instance, one 2015 study found that acute myocardial infarction patients with above-average health literacy had an 18% lower risk of 30-day hospital readmission than those with basic health literacy. An analysis published in the Journal of Health Communication found patients with low literacy are close to 1.5 times more likely to return to the hospital or emergency department within 30 days than those with adequate literacy.
3 Ways Hospitals Can Promote Health Literacy
Hospitals seeking to reduce their rate of preventable readmissions may want to consider several strategies. The U.S. Centers for Disease Control and Prevention offer a number of resources for organizations looking to create a Health Literacy Plan, and there are also a number of small steps healthcare providers can use to reduce the likelihood of readmission among patients with limited medical understanding.
Speak Slowly and Simply
Research has shown that nurses often overestimate the health literacy of patients, according to the Journal of Health Communication, so it is important for healthcare providers to take steps to ensure patients understand their diagnosis, treatment plan, and post-discharge care steps.
The most basic way to do this is by speaking slowly and using simple, non-jargon terms. For instance, avoid terms like "adverse" or "acute"—say "harmful" or "lasting a short time, but causing a serious problem" instead.
Use the "Teach Back" Method
The "Teach Back" method is low-cost, evidence-based technique to help promote patient understanding throughout their hospitalization and during discharge. With this strategy, healthcare providers ask the patient to explain information back in their own words. This often reveals any confusion or misunderstanding the patient may have and also gives providers a chance to give additional instruction.
Similarly, the "Show Me" method—where a patient demonstrates an action—can be used to ensure they are clear on things like how to change a bandage or take their prescribed medication.
Provide Clear Written Materials with Illustrations
Written materials can help improve health management once a patient is discharged, but it is important that hospitals assess their written resources to ensure the language is simple and accessible to patients with different reading levels and medical knowledge. Additionally, it can be beneficial to supplement written instructions with illustrations to break up long groupings of text and increase comprehension.
More Resources on Reducing Readmissions:
Care Guidance for HRRP Conditions
Contact Us Today To Learn How We Can Help
"*" indicates required fields
Related Blogs