Reducing Hospital Readmissions: 5 Strategies
One key measure of hospital care quality is the facility's readmission rates, or the percentage of patients who experience unplanned readmission after a previous stay. Readmissions are expensive—more than $14,000 per readmission in costs to the hospital, on average, according to the Healthcare Cost and Utilization Project. Even though hospitals may end up making a net profit from a patient's readmission, a key element in providing quality healthcare is improved outcomes. In order to drive processes that improve care and reduce unnecessary readmissions, Medicare instituted the Hospital Readmissions Reduction Program (HRRP), which reduces payments to organizations with excess readmissions. For these reasons, many hospitals are implementing organization-wide programs and policies aimed at reducing hospital readmissions.
5 Proven Methods for Reducing Hospital Readmissions
The following are five proven ways to reduce hospital readmission rates.
Identify High-Risk Patients
Multiple studies have shown that certain patient populations are at higher risk for hospital readmission. Research in the Journal for Healthcare Quality found socioeconomic factors, such as race, income, and payer status, are correlated with rehospitalization rates, and patients with certain conditions, including heart failure, chronic obstructive pulmonary disease, and renal failure, also have higher rates of readmission.
---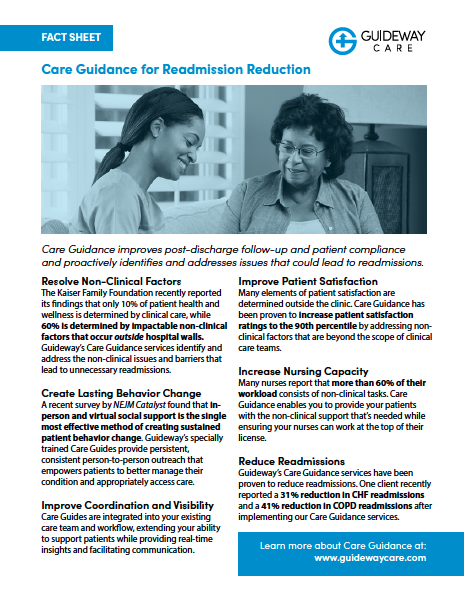 Guideway's Care Guidance services have been proven to reduce readmissions, including 31% reductions in CHF readmissions and 41% reductions in COPD readmissions.
Download the fact sheet on Care Guidance for readmission reduction to learn more.
---
Armed with this data, healthcare providers can take additional steps to minimize high-risk patients' chances of readmission. This might mean involving the patient's family in post-discharge care instructions or referring the patient to a specialist for further care.
Ensure Adequate Nursing Coverage
One key to lowering readmission rates is to ensure that you have appropriate nurse staffing levels. Studies have found a clear correlation between the number of nursing staff at a hospital and its 30-day readmission rates—one 10-year study found a higher number of RNs was associated with lower readmission rates of approximately 8%, according to ScienceDirect.
Why does this happen? When staff levels are higher, nurses have more time to spend with each patient, ensuring more comprehensive communication. This often increases the quality of discharge instructions provided, which can help prevent readmission down the road.
Unfortunately, hospital administrators know all too well that hiring and retaining experienced nursing staff is already a difficult task—a trend that is expected to continue as many nurses retire. Since that's the case, it's critical that nurses are able to focus on the clinical tasks that they are trained for. A key component of ensuring adequate nursing coverage should be offloading non-clinical activities from nursing staff to appropriate non-clinical personnel, ensuring that clinical staff members are able to focus on patient care and practice at the top of their license.
Improve Transitional Care
Quality transitional care has also been shown to significantly decrease hospital readmissions. Transitional care may include rehabilitative, restorative, or skilled care, physical therapy, nutritional counseling and dietary planning, fall prevention, and more. These services are especially useful to patients with complex or chronic conditions.
BMC Health Services Research found that hospital patients who were referred to an exercise program and received both a nurse visit and telephone follow-up were 3.6 times less likely to have an unplanned readmission 28 days following discharge than patients who received none of these transitional care services.
Ensure Patients Understand Post-Discharge Instructions
It may seem obvious, but it is essential for medical staff to ensure patients understand their post-discharge care instructions. When patients misunderstand or forget parts of their post-care directions, it greatly increases their risk of being readmitted to the hospital in the near future.
For this reason, many organizations use the "teach-back" method, where patients are asked to explain their own care instructions back to medical providers. This allows doctors and nurses to assess whether patients fully understand the steps they need to take post-discharge, and according to a review of five studies, published in the Journal of Patient Safety, discharge education with the teach-back method resulted in a whopping 45% reduction in 30-day readmissions.
Schedule 7-Day Follow Up Appointments
Finally, another proven strategy that can help hospitals lower their readmission rates is to have patients schedule a 7-day follow up with their primary care provider. A recent study in JAMA found patients who followed this 7-day guideline had a 30-day readmission rate of 12.7%, while patients who waited longer or did not follow up with their physician had a readmission rate of 17.5%.
Programs like the 7-Day Pledge can help ensure that patients are following up with their primary care providers, who can help patients with medication reconciliation, reviewing their discharge plan, and providing any additional information needed for a smooth care transition.
More Resources on Reducing Readmissions:
Care Guidance for HRRP Conditions
Contact Us Today To Learn How We Can Help
"*" indicates required fields
Related Blogs