What is OCM 2.0?
OCM 2.0 is a proposed alternative to the current Oncology Care Model (OCM) program, and was created by the Community Oncology Alliance (COA) in June 2019. COA submitted OCM 2.0 to the Physician-Focused Payment Model Technical Advisory Committee (PTAC), an advisory committee that evaluates physician-focused payment models for the Secretary of Health and Human Services (HHS).
Challenges of the Original OCM Program
The proposal is based on feedback from current OCM participants and "lessons learned from other alternative payment models (APMs)." (AJMC, 2019). The proposal points to several challenging areas faced by participants in the existing model as the impetus for the proposal, including:
Data and reporting requirements
The need for more practice input and guidance
Questions about whether the current model utilizes the right quality measures
The need for more timely and meaningful feedback
---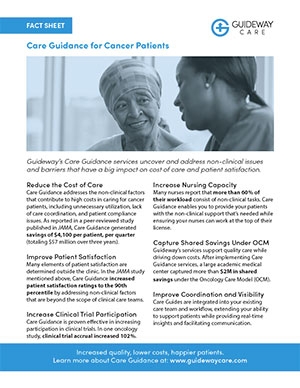 Guideway's Care Guidance services support quality care while driving down costs. After continuing Care Guidance services, a large academic medical center captured more than $2M in shared savings under OCM.
Download the fact sheet on Care Guidance for cancer patients to learn more.
[pardot-form height="170″ id="20312″ title="Guideway Care Cancer Fact Sheet Download"]
---
Proposed Improvements in OCM 2.0
OCM 2.0 seeks to address these shortcomings and improve upon the existing model, and outlines several major components:
A care coordination fee that continues to support participants' role as a medical home for patients
Quality measures that are relevant, meaningful and practical, and that can be collected electronically
An expansion of risk adjustment to better account for the variations in cancer type, comorbidities, complications, etc.
Shared savings that would allow transparency and performance competition among model participants
COA underscored that 2.0 is not meant to be a final version of OCM, but rather a step in an iterative process aimed at providing higher quality care, with a better patient experience, at lower cost.
More Resources for the Oncology Care Model:
Guideway Care reduces unnecessary utilization/cost of care and improves patient compliance and satisfaction. Request more information about how Guideway can help you succeed under OCM today.
[pardot-form height="700″ id="13043″ title="Guideway Care Info Request Form – General"]
Contact Us Today To Learn How We Can Help
"*" indicates required fields
Related Blogs