Guideway Care Exhibits as Platinum-Level Sponsor of the 2023 Association of Cancer Executives (ACE) Annual Meeting
Westin Rancho Mirage Resort & Spa, Rancho Mirage, California
January 22-24, 2023
David Randall, MD, CSO for UAB Health, to Speak on Health Equity in Cancer Care,
Moderated by Mark Lloyd, VP of Strategic Business Development, Guideway Care
January 23, 4:50 PM – 5:30 PM
Guideway Care is proud to be a 2023 Platinum-level sponsor of the Association of Cancer Executives (ACE) 29th annual meeting, and sponsor a speaker session presented by David Randall, MD, Chief Strategy Officer for UAB Health on January 23 at 4:50 PM – 5:30 PM. This session will be moderated by Mark Lloyd, Vice President of Strategic Business Development, Guideway Care.
Support for this event reinforces Guideway Care's commitment to ACE and its dedication to the leadership development of oncology executives through continuing education and professional networking designed to promote improvement in patient care delivery.
This is also an opportunity to further demonstrate to stakeholders in oncology the value of resolving certain inequalities in cancer care that are linked to social determinants of health (SDoH), including level of education, occupation, income, sex, race, ethnicity, place of residence and social support presence. As a leader in Care Guidance, Guideway Care finds it encouraging to see this growing acknowledgement, as these factors have been strongly linked to cancer prevalence, outcomes, and rates of morbidity, mortality and survivorship. In turn, these issues can impact many aspects of cancer treatment, including decision-making and barriers to cancer care.
This presentation also aligns with recognition of the consequences of the factors embedded in the SDoH that create negative financial impacts for hospitals and health systems — particularly for costly and complicated patient medical conditions such as cancer. Our Care Guidance solution is designed to overcome unplanned and avoidable ER visits and inpatient admissions that disrupt care delivery and continue to be associated with a significant proportion of healthcare costs.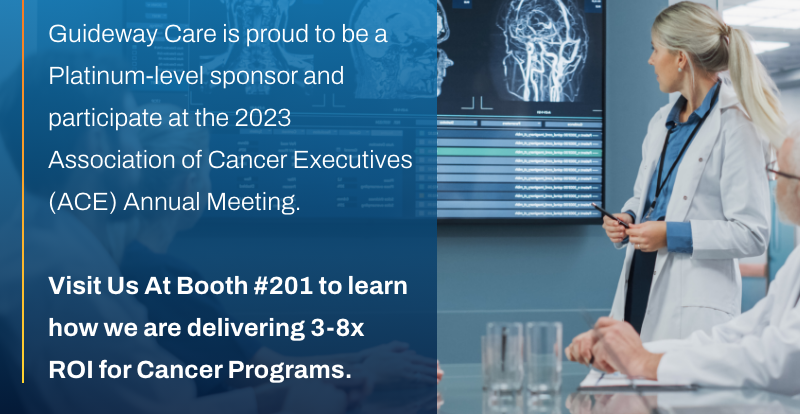 Having developed over 70 non-clinical and clinical assessments, covering SDoH and most disease states, Guideway's solution drives health equity and financial performance by resolving patient barriers related to health-related social needs, practical concerns and other impediments to compliance with clinical instructions.
Guideway helps hospitals extend support to patients beyond hospital walls—improving patient and provider experiences and outcomes, improving efficiency and satisfaction, and helping care organizations execute quality care initiatives that impact revenue. Care guidance programs offer the leverage providers need to support their patients and thrive in all healthcare delivery systems – especially under value-based care arrangements that reward quality of care vs. quantity of services.
Contact Us Today To Learn How We Can Help
"*" indicates required fields
Related Blogs